The railway aluminum bracket part production flow chart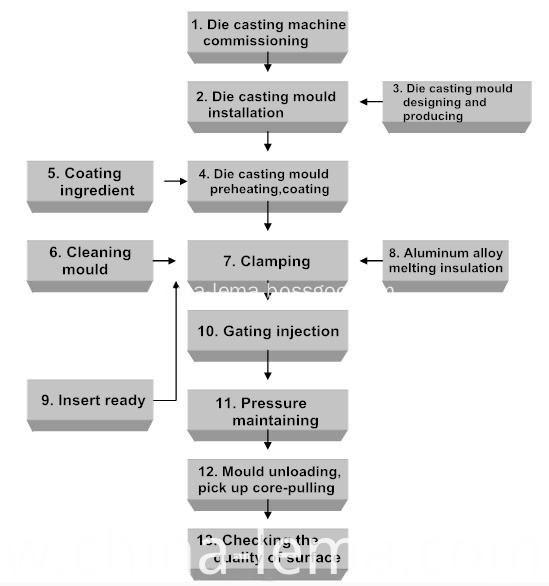 Commonly used materials of Aluminum Die-casting Valve Body: A380;
The precision of the Die Casting Aluminum Valve Body: ±0.01mm;
Smoothness of surface of rough part: Ra3.2;
Smoothness after CNC machining: Ra0.8;
Shrinkage rate of Die-casting Aluminum Valve Body: 0.5%;

Material wastage rate: 5%;

General Aluminum die casting valve body machining allowance: 0.5mm~0.6mm;
Surface preparation methods: Sand blasted, Powder coating, Polishing.
The specific pressure parameters of aluminum railway bracket part
Material

Thickness of die casting parts≤3mm

Thickness of Die Casting Parts>3mm

Simple structure

Complex structure

Simple structure

Complex structure

Aluminum alloy

25-35Mpa

35-45Mpa

45-60Mpa

60-70Mpa
Injection speed of railway aluminum bracket maker process
Pouring liquid metal tie up chamber volume percent

Injection speed(cm/s)

≤30

30-60

>60

30-40

20-30

10-20
Our company's production equipment and management system
Aluminum Die casting production equipment: L.K brand die casting machine From 160T, 200T, 280T, 400T, 630T, 800T and 1250T;
CNC machining center: 10 sets;
CNC lathe machine: 6 Guangzhou Machines and 8 Shenyang Machines;
Work days of one week: From Monday to Saturday;
Shift work: 2 shift per day;
Working hours: From AM 8:00 to PM 5:00;
2D and 3D drawing Software: AutoCAD, UG, Pro/E, SolidWorks 2013;
QC control: New type NANO CMM, FPI M5000 desktop metal analyzer, Easson projector, Mechanical properties tester.
The strength of aluminum railway bracket product, CNC machining, and QA control.